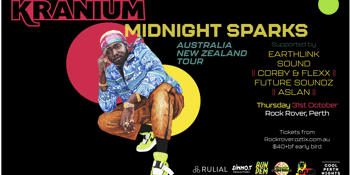 Rulial / Simmo T Productions / Bun Dem / Fisherman Style / CPN
Kranium (Jamaica)
Earthlink Sound, DJ Corby w/ Flexx, Future Soundz, DJ Aslan, Bun Dem Crew.
Rock Rover (Fremantle, WA)
Thursday, 31 October 2019 7:00 PM
Thursday October 31 Global Dancehall and Afrobeats leading man Kranium comes around to Fremantle's Rock Rover supported by some of WA's elite champions of this party Earthlink Sound, DJ Corby w/ Flexx, Future Soundz, DJ Aslan, Bun Dem Crew.
- A VERY LARGE PARTY NOT TO MISS -
Known for his unique melodies, genre bending sound, and ability to curate an exceptional live show. Singer – Songwriter – Global Touring Artist Kranium returns to Australia and performs in New Zealand for the first time to launch his new album "Midnight Sparks".
Born in Montego Bay, Jamaica and raised in Jamaica, Queens, NY, Kranium offers the perfect blend of authentic Dancehall vibe with a unique touch of his own. Kranium's distinct sound can be heard on major collaborations with artists such as Ty Dolla $ign, Wiz Kid, Major Lazer, Tory Lanez, Rotimi, Bebe Rexha and Ed Sheeran. Kranium has established himself as a global touring artist bringing Dancehall to stages worldwide including Dubai UAE, Australia, Albania, Sweden, Germany, Israel, Africa (Nigeria, Ghana, Kenya, Tanzania) and more.
With his next album "Midnight Sparks", fans can expect to hear that classic Kranium sound they've grown to love – with his smooth melodies, seductive storytelling and clever lyrics. However, he's more direct with his approach this time around. Whereas with his previous album "Rumors", it was about living your life, but keeping your best kept secrets close, Kranium is living life out loud and seeks no validation from others.
To date Kranium has achieved over 400 million + total streams worldwide and with his forthcoming project is set to further his success and cement his status as a torchbearer of the new legacy of dancehall.
"Kranium's clever lyrical composition, melodic satin voice and island swagger have made him one of the imminent leaders of new dancehall." - Okayafrica